BOOKS & BOOK STORES


HamiltonBook.com
digital.library.upenn.edu/books
Half.com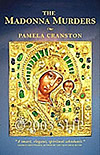 St. Huberts Press - The Madonna Murders by Pamela Cranston (my aunt!)
A MIRACULOUS ICON WORTH DYING FOR…
The Madonna Murders by Pamela Cranston is a mesmerizing tale of intrigue, romance, and the supernatural about the priceless Icon of Kazan, first made famous by Tolstoy and shown at the 1964 New York Worlds Fair. In the tradition of Charles Williams and akin to Dan Brown's, The Da Vinci Code, it is a story about obsession, love and murder which takes the reader into the world of icons, the struggle between the holy and the demonic, and the Russian history of San Francisco...
Read more and find ordering information here!